Dog training collars are a perfect solution for misbehaving dogs. You can use it on your dog to modify behaviors like barking, running away, and peeing everywhere among many others. You can also use shock collars for sports training and hunting.
Over the years there have been controversies surrounding dog training collars with some people arguing they are abusive. However, today's e-collars use stimulation instead of electric shock to get a dog's attention. Choosing the best shock collar for dogs can be stressful. To help you in this process, I have reviewed some of the top picks you can consider on the market.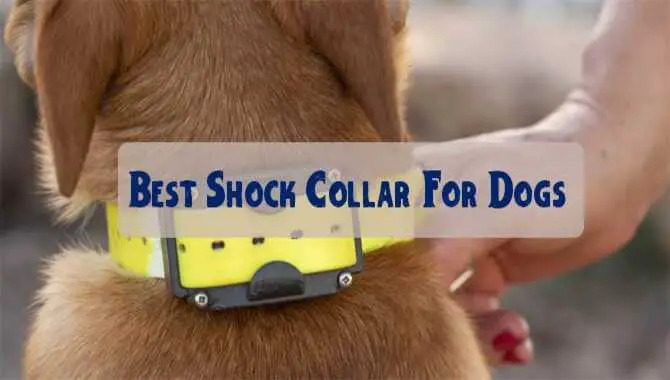 Why Do You Need A Shock Collar For Dogs?
Shock collars for dogs are used to curb unwanted and stubborn behaviors in dogs like food aggression and peeing everywhere. They are especially handy when it comes to training your dog to stay within boundaries or to stick close by. E-collars are also cheaper as compared to hiring professional dog trainers and fences.
Furthermore, dog training collars are ideal for training hunting and sporting dogs which can be hard when using a leash. These collars are comfortable for dogs and give them more freedom when compared to the use of leashes. They are safe and humane plus they offer a wide range for training dogs in parks and big yards.
E-collars are safe and convenient; you can enjoy walking with your dog without having to drag it around. Some shock dog collars feature a night mode setting which ensures the easy location of your dog at the night.
Best Shock Collar For Dogs Reviews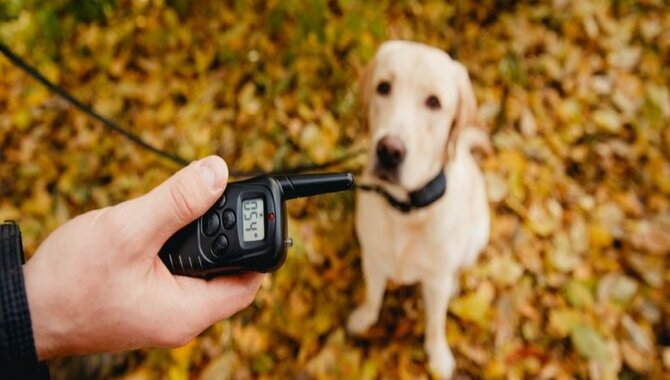 There are different types of dog shock collars available. It is good to choose one that fits your dog perfectly for successful training. Below are our recommended shock collars for dogs.
1. Dogtra 1900S Series: Remote Dog Training E-Collar Waterproof Rechargeable
This collar is ideal for all occasions. With its ergonomic design, it is made to fit comfortably making it a perfect choice for indoor and outdoor activities. Dogtra shock collar is a perfect choice for both amateur and professional dog trainers. Its design is quite simple with sleek and slim modern receivers which are easy to wrap around a dog seamlessly.
What's more, Dogtra comes with two durable receivers that have been tested for waterproof protection. The 1900S receivers feature low-high stimulations from 0-127 levels. This range of stimulation is suitable for training both mild and stubborn dogs. With a mile range of ¾, this e-collar is perfect for training your dog in obedience, hunting, and also sporting.
The e-collar features two types of correction' a Nick for up to ½ seconds and constant for up to 12 seconds. It also allows for adjustments for a fit of you and your adolescent or adult dog. Users especially love the High-Performance Pager which outputs a clear vibration to alert dogs during training.
The LCD screen on the collar is easy to read even from afar. Plus its level of brightness can be easily adjusted to the users liking using the Rheostat Dial.
Pros:
It is waterproof
The collar has an ergonomic design
It has a long training range
More correction levels
Easy to use
Can train two dogs at once
Cons:
Doesn't work well for long
Poor customer service
2. SportDog Brand 425X Remote Trainers
SportDog brand 425X is the best shock collar for dogs especially if you are a professional dog trainer. The 500-Yard e-collar allows the training of up to three dogs simultaneously using one controller with the addition of collars. It is specially made to correct unwanted behavior in more stubborn dogs.
Its waterproof design makes it ideal for training hunting dogs. The collar is submersible to up to 25 feet of water. Lithium-ion rechargeable batteries' life is decent and can run for about two hours before their next charge. The battery level indicator will alert you when it's time for recharging.
It is definitely the most advanced shock collar on the market today. It's the smallest and the lightest e-collar in the market offering a higher static stimulation range than its previous version. You will find it easy to operate after going through the manual and instructional DVD that comes with it.
The dog collar features up to 500 ranges making it ideal for training in the field or yard. The e-collar is also designed for blind operation; you can watch your dog's activity without looking at the remote. It's fit for big dogs with neck sizes between 5''-22''
Pros:
Waterproof and rechargeable
Great for stubborn dogs
21 training levels
500 miles range
Expandable for up to 3 dogs
Cons:
Counterfeit products
The instructions are terrible
It has a bad design
3. Dog Training Collar with Remote
Dog Training Collar with Remote is designed to modify unwanted behaviors or fuses in dogs of medium and large sizes. It supports the training of up to 3 dogs at once provided you purchase additional collars. This e-collar is made of high-quality material to ensure it lasts long.
It features variable shock and vibration levels perfect for teaching your dog different types of commands. It offers 10 levels of continuous and instant shock by vibration or beep especially ideal for emergencies training. The e-collar can be used to train both young and adult dogs, it's also easy to set up and use.
This e-collar training system features a wide range of miles up to ¾ making it ideal for training in yards. This makes it perfect for training hunting dogs. Moreover, this device has a waterproof construction and can work even after full submersion. This is the number one choice for dogs who love to swim or play in the water.
The training collar has a super long-lasting battery. The Lithium-ion rechargeable batteries fully charge within 2 hours. The brand also offers a very proactive customer service system to all buyers.
Pros:
Great for all dog sizes
It has a long range
Durable construction
Long battery life
Easy to use
Night mode light
Great for hunting
Cons:
Stops working after some weeks
Not ideal for long-haired dogs
Anti-bark doesn't work
4. PetSpy P620B Dog Training Shock Collar for 2 Dogs
This is the best shock collar dogs, especially for beginners, its buttons are designed to be distinguished by touch. This enables a user to be able to operate it without focusing on the remote. The PetSpy P620 features a remote of range 650 yards making it perfect for outdoor training activities like sporting.
The amazing e-collar is specially designed to support big dogs and can accommodate a dog of up to 140 pounds. Moreover, the collar offers 3 training modes each with 16 intensity levels. These settings can be customized to fit for dog's suitability.
It features a powerful adapter with a split cable to charge the receiver and remote simultaneously at maximum speed. Its battery life is good and can last up to 7.5 days on a single charge. It is both easy to set up and use, it can be used to modify behaviors such as chewing and barking.
This e-collar is made with premium quality materials to support durability. Also, it is smartly designed to fit the needs of both amateurs and professional trainers. For beginners, The PetSpy P620 Company offers a free detailed eBook with detailed guidelines and amiable customer care services.
Pros:
It comes with two e-collars
Corrects your dog's behavior
Suitable for all dog breeds
Offers 3 training modes
Made of quality materials
You get a dog training guide
Cons:
The collar is too tight
It has a shorter range
Shock settings don't work
5. SportDog Brand Sport Trainer ½ Mile Remote Trainers
The Sport Trainer 875 features ½ mile range making it the best for field training and far-ranging hunting dogs. This dog shock collar is designed with an easy-to-read OLED screen. This feature makes it possible to monitor battery status, static stimulation, and mode even at a distance.
It can support the training of up to 3 dogs simultaneously with the addition of collars. This e-collar is designed for training big dogs of up to 8 pounds and neck sizes ranging from 5''-22''. Plus it offers 10 different levels of continuous and momentary static stimulation and also beep and vibration options. It can be customized to fit a dog's temperament.
This device uses the Dry Tek technology which makes it waterproof and submersible to 25 feet. It comes with rechargeable batteries with a quick charge formula of 2 hours and lasting up to 70 hours. The system has a low battery indicator to notify you when it's almost time for charging.
In addition, the package includes a remote transmitter with removable Antenna, power adapter, standard contact, and long contact point. Also test light tool, a receiver on a ¾ collar strap, lanyard, and a quick start guide.
Pros:
Screen is easy to read
½ mile range
Long battery life
Waterproof design
Cons:
Poor charging code design
Can make your dog bleed
6. Lu&Ba Dog Shock Collar
Lu&Ba Dog Shock Collar is the best shock collar for dogs for every dog lover. Your dog will especially like the high-quality silicon material covers which are gentle and protects its skin and fur. The e-collar is designed to be lightweight so as not to tire your dog while training.
This dog training collar is waterproof rated IPX7. A dog can play in the rain or go for a swim freely without the worry of damaging it. Lu&Ba Dog Shock Collar features a sleek and vogue-ish style. Its remote is made of high-grade silicone materials which are comfortable to touch.
The shock collar has been developed to work without harming the psyche of your dog. It features 3 safe humane training modes each with a different color. Beep is indicated by green, yellow indicates vibration while red reminds of shock. A user can switch between the 3 modes safely thus minimizing the risk of accidental shock.
It has been tested on different types of breeds and dog dispositions to ensure safety. The e-collar supports a signal of up to 3000ft without obstacles and 500ft with obstacles, thus making your training unlimited.
Pros:
Suits small, medium, and large dogs
Thick silicone to protect dog's skin
Long battery life
Large LCD screen
3000 feet control range
Waterproof and safe for dogs
Cons:
Not good for active dogs
Doesn't have a safety switch
The range is not as advertised
7. PATPET Dog Training Collar with Remote
PATPET Dog Training Collar has a simple design with easy-to-locate buttons making it easy to be operated. This dog training collar has up to a 1000 ft. range making it the best for training hunting dogs. Lithium batteries also have a long life lasting up to 7.5 days on a single charge of two hours.
The collar features 16 levels of stimulations and 8 different vibration intensities. These features can be adjusted to fit the different temperaments of different dogs using two buttons on the side of the remote. The collar is suitable for dogs above 6 months old; it can be adjusted to fit dogs between 8-111 lbs.
Moreover, the e-collar is waterproof allowing your dog to bath, swim, or play in the rain freely without damaging it. It comes with two different contact prongs made of thick silicone materials to protect dogs with different coats.
This dog training collar is ideal for correcting a dog's foul behavior like biting, running away, and barking among others. It also supports the training of two dogs at the same time. Moreover, it's user-friendly with an off and on the button which also acts as a security lock to minimize accidental shocks.
Pros:
Good for small dogs
3000 feet remote range
The shock collar is effective
Quality battery build
Compact size than other shock collars
Silicone points with rubber offer double protection
Cons:
Stops working after 2 weeks
The range is not as advertised
It is not reliable
8. Bousnic Dog Training Collar 2 Dogs
Bousnic Dog Training Collar is made with a simple and ergonomic design for both beginners and expert trainers. It features easy to access buttons size which allows a blind operation. It is made with conductive silicone prongs which are mild on the fur and skin of a dog.
This e-collar system offers a customized level and a standard mode that can be tailored to fit your dog's temperament. Its remote can work up to a radius of 1000 feet allowing for both indoor and outdoor training activities. The anti-jamming technology enables a strong and stable signal over long distances. The remote also has a dual channel that can support the training of two dogs at once.
The collar has been tested for IP67 waterproof. This means your dog can go swimming and play in the rain while wearing the collar. Bousnic Dog Training Collar features a Lithium-Polymer battery that charges for 2-3 hours and can last up to 20 days.
It offers 3 training modes; vibration, beep, and static shock. The collar is also adjustable fitting 15-20 lbs. dogs. For safety, the collar receiver switches automatically to protection mode if the static mode works continuously for 10 seconds.
Pros:
Quality nylon material
It has an ergonomic design
Corrects dog's unwanted behavior
Durable construction
Long battery life
Comfortable for your dog
Cons:
The range is terrible
It provides inconsistent shock
9. FunniPets Dog Training Collar
FunniPets Dog Training Collar is super easy to use making it ideal for both beginners and expert trainers. It's the perfect solution for over-the-board stubborn dogs that won't quit barking, running away, or refusing command. FunniPets Dog Training Collar is relatively cheap compared to other brands.
Unlike most shock collars dogs actually care about the safety and the comfort of your dog. It is made with additional conductive silicon in the contact points to guard your dog against skin injury. Also, the contact points can be removed at times to reduce the friction in the dog's neck.
The e-collar features a built-in LED light to help locate a dog even in the dark. The reflective strap on the collar is for reflecting light during nighttime to ensure your dog's safety especially when night walking. It also features a long remote mile range making it ideal even for backyard training and park training.
FunniPets Dog Training Collar offers 4 training modes; static shock, vibration, beeps, and light mode. The device is partly waterproof your dog can bathe and play in the water freely with the collar on. You are advised to close the charging port when near water.
Pros:
It protects your dog's skin
A good range for training your dog
The receiver is waterproof
Corrects various dog's behavior
LED light to locate your dog in dark environments
Cons:
Short battery life
The collars feel cheap
It doesn't last long
Things to Consider Before Taking Shock Collar For Dogs
There are several considerations you should check when buying a shock collar for your dog. Below are the essential things you should consider:
Range
This is a very important factor to consider since it will determine whether you are performing indoor or outdoor training. Shock dog collars offering a wide range are usually ideal for outdoor training activities like sporting and hunting. Those with smaller ranges are limited to indoor activities or activities that require short distances.
Settings
This is another key feature to look at when selecting a dog training collar. Most dog collars offer noise, vibration, and shock stimulation settings. You will have to choose one that offers the option you seek at best. However, before choosing compare the numbers of levels to ensure you pick one that is suitable for your dog.
Size
Different dog collars offer different accommodation sizes for a dog. Oversized collars may inconvenience small dogs while small collars may make big dogs uncomfortable or even hurt them. It is therefore important to pick a dog collar that fits your dog perfectly and also allows for adjustments.
Battery Life
It's important to know that different types of activities consume the battery's power differently. If you are looking for a collar for indoor dog training it's easy to find an e-collar of your liking. However, if your aim is intense outdoor training you should go for e-collars with longer battery life. Besides changing batteries constantly is no one's favorite activity.
Ease of Use
Trust me you do not want to purchase a dog training collar that you will not be able to use. Go for simple designs that are easily understandable especially if you are a new user. Also, check out instruction manuals and make sure you are able to follow them.
Memory
Dog training collars with memories are ideal companions. They allow you to save your previous settings and connections so that you don't keep setting your device.
Quality
E-collars made of high-quality materials are usually durable. They can also withstand being used under bad conditions and rough environments without suffering breakage or malefactions.
Night Mode Light
This feature is important as it enables a trainer to monitor his/her dog even at night. It makes night walking with your dog possible and safe. It especially comes in handy during winter and stormy months when darkness prevails
Waterproof
You want to purchase a dog training collar that is completely waterproof. This makes dog training easy and fun under all weather conditions. Moreover, your dog can enjoy swimming in the pool or playing in the rain without ruining it.
Cost
This is a standard factor when purchasing almost everything. Go for a dog collar that fits your need without hurting your pockets. Sometimes cheap means a lower quality so be careful not to fall into this trap. Ensure the item you are getting matches the sum of money you are paying.
Rechargeable batteries
When it comes to dog training collars rechargeable batteries are usually recommended these can be recharged severally. Non-rechargeable batteries drain a lot quicker and you will be lucky if they even last two weeks. In the long run, rechargeable batteries are a lot cheaper compared to the latter.
Reviews
Many people don't know this but reviews give an inside scoop on an item. Make a habit to read through the reviews of the e-collars before selecting one. Also, compare the good and bad reviews.
Company
Most of the time trusted companies offer the best services as opposed to faceless companies. Always research thoroughly, and pick the right shock collar from a recognized brand.
Frequently Asked Questions:
1.Are Dog Training Collars Abusive?
Ans: No, dog training collars are very safe provided you are following the manufacturer's instructions. They use simulation in form of a beep, vibration, and static pulse to get a dog's attention instead of electric shock. For safety purposes always use the lowest possible level of stimulation.
2.Can Dog Training Collars Be Used On A Puppy?
Ans: No, training collars should not be used on dogs younger than 6 months old. Most e-collars are designed with stimulation levels that only fit big dogs. For puppies, you can try training them with treaties, toys, and tools like clickers.
3.Are Dog Training Collars Waterproof?
Ans: Some training e-training collars are completely waterproof and cannot be damaged when a dog goes for a swim. Others are partly waterproof like they will require you to close the charging port before letting your dog play in the rain. And others can't stand water completely.
4.How Long Can A Shock Collar Stay On A Dog?
Ans: Experts advise against putting the dog collar on for more than 12 hours. If this limit is exceeded your dog might develop skin injury around the area. Try relocating the receiver frequently to avoid the accumulation of stress in one area.
5.How Can I Choose The Most Suitable Shock Dog Collar?
Ans: You should consider the following factors before purchasing a dog collar; the size of your dog and the dog's temperament. Also, the collar's range especially when it's for outdoor training, the number of dogs, and its ability to be water-resistant.
Conclusion
From our top reviews, dog training collars come in different sizes and modifications. Therefore it is important to choose one that is a fit for you and your dog. Moreover, choose a dog collar that is suitable for your activities to avoid any inconveniences.
While some dog training collars feature an input safety mode others lack it. In this case, it is very important for the user to be keen enough not to accidentally abuse a dog. Also after a long training day take off the dog's shock collar to relieve it stress around the neck.